Lyons Store
The Lyons Kennels Store is open daily, 7 Days a Week, 365 Days a Year! Curbside pickup available!
Our hours are Monday - Saturday 8am to 7pm and Sunday from Noon to 6pm.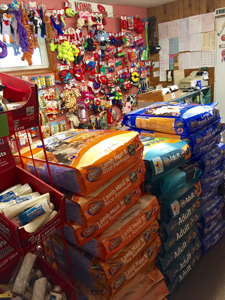 High Quality Pet Food
We carry several brands of high-quality pet food, including:
Nutri Source
Victor
Pro Plan
Fromm
Taste of the Wild
Merrick
Holistic Select
Eukanuba
And we can order many more.
Some of these pet foods have a frequent feeding program where you can receive a free bag if you save 10 or 12 UPC's. Please contact us for details.
Pet Supplies
The Lyons Store carries a wide range of pet supplies, including toys, brushes, shampoos, collars, leashes and Midwest dog carriers. We have Lupine collars and leads, which are guaranteed even if chewed!
Special Orders
If you are looking for a pet food or other item that we do not carry, just ask! We can special order most items for you.

Lyons Kennels acceps Visa, MasterCard, Discover, debit cards, and cash.